WHAT'S INSIDE THE BEARD GROWTH KIT?
Maximizes serum absorption and stimulates the sleeping follicles

Activates your facial hairs and boosts your beard growth

Is designed to clean The Beard Roller

Will make you the most groomed man in the room
HOW DO I USE THE BEARD GROWTH KIT?

MONEY BACK GROWTH GUARANTEE
We have great confidence in our Beard Growth Kit. Enough confidence to offer you a Growth Guarantee.

Yep, if you don't get any results after 150 days you get your money back. No questions asked.
How long is shipping to the US?
After order is processed (1-2 days) shipping is 10-12 business days.
How long is shipping worldwide?
After order is processed (1-2 days) shipping is 10-12 business days.
How often should I use The Beard Growth Kit?
The Activator should be applied once every morning. It's a leave-in Serum, meaning that you don't have to wash your face after application. Apply 2 pumps after washing your face.
We recommend using the Beard Roller 2 times a week for best results. Spray The Beard Roller with The Beard Roller Cleanser (2-3 sprays) before use. Wash The Beard Roller with warm (not boiling) water after use.
Can I shave while using The Beard Growth Kit?
You can trim your beard if you prefer to keep it under control.
However, to avoid destroying the formation of new vellus hairs, we don't recommend to do a clean shave.
You can start using the Beard Growth Kit with any type of beard length.
Does it have any side effects?
No side effects or allergens have been detected. The product is safe to use and approved by our cosmetic science team and meets all European standards for safety.
What can I expect and when?
Most men start seeing new small white hairs growing after 4-8 weeks when using The Beard Growth Kit consistently.
The important thing is that you don't expect to grow a full beard overnight. It will take time to grow a fuller beard.
A beard journey differs from person to person. Everybody has their own starting point and goal.
We recommend a beard journey of 150 days to get a realistic indication of your growth potential. If you haven't seen improved growth after 150 days, we refer to our Growth Guarantee. Furthermore, we recommend that you don't stop your journey when you see the first gains - the vellus hairs have to become terminal.
The Beard Roller creates microscopic channels in your skin which maximizes your blood circulation and the absorption of the Activator.
The Activator activates your dormant 'sleeping' follicles and stimulates new hair growth.
How long does one Activator last?
There are about 140 pumps in one bottle of Activator. If you use 2 pumps per day, one serum should last for 70 days.
How long does The Beard Roller last?
If properly taken care of, The Beard Roller typically lasts 6 months. The needles should always be sharp enough to penetrate the skin easily. If not, a replacement is needed.
Do I need to continue using the kit to maintain my results?
For a vellus hair to become terminal, it can take from 2 months to a year - or even more. But these cases are rare. Once the hair has become terminal, the frequent application of the serum is no longer needed - but we do recommend to apply The Activator once a week.

What are the ingredients in The Activator?
Ingredients: Aqua, Alcohol denat., Curcuma Longa Callus Conditioned Media, Biotin, Arginine, Gluconolactone, Glycine, Alanine, Valine, Proline, Threonine, Isoleucine, Histidine, Phenylalanine, Panthenol, PCA, Sodium PCA, Serine, Caprylyl Glycol, Calcium Gluconate, Sodium Lactate, Denatonium Benzoate, Carbomer, Sodium Hydroxide, Aspartic Acid, Phenoxyethanol, Sodium Benzoate.

Does it work for my head?
We have received examples where men have used The Beard Growth Kit for hair growth on the scalp. The Activator contains the active ingredient, Capilia Longa, which has been scientifically proven to increase hair growth. Therefore, The Activator can work on your scalp.
However, our kit has only been tested on and developed for beards. Therefore, we can't advise on the usage of our Beard Growth Kit for the scalp or offer a guarantee.
Customer Reviews
Before picture: That was me attempting to first grow out my beard naturally. (2 months without shaving. Also day 1 of my journey with your products). After photo: 6 months later (present day June 26th.2021. If there is any advice I would give to anyone, is use Get Your Beard's The Beard Growth kit and STAY consistent!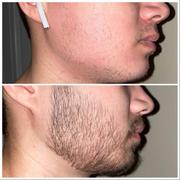 I started using the kit exactly on February 20, 2021, its been 5 months and im heading towards the whole year and beyond to keep evolving with their incredible products. Get Your Beard you guys completely changed my life and increased my confidence. As ive always said, your products are simply magical.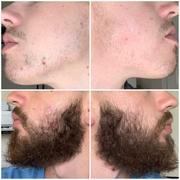 I was very sceptical at first so I took pictures once every month and as much as I was hoping to be able to prove them wrong they proved tht I was the one who was wrong. For me personally, the product worked as they advertised. It was worth my money and I hope you guys feel inspired after reading this.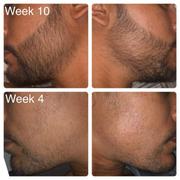 We have such confidence in our products that we offer a full Money Back Growth Guarantee.
If, on the rare chance, you don't get any results - you get your money back in full!